Choosing the perfect tallit is a difficult choice, but to start with, you must know what material you want it to be made from. Below, is a guide to many of the different types of materials from which the tallit is nowadays made.
Silk Tallit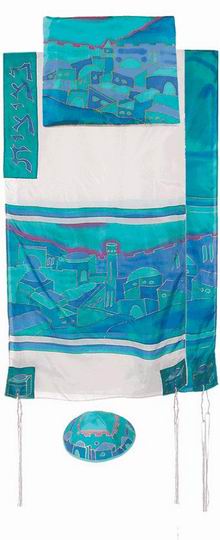 There are many varieties of silk tallitot available on the market today. Crepe, taffeta, embroidered, beaded, crepe, douppioni, crepe backed satin, charmeuse, and raw woven silk are just some of the options available. Then there are multitude of mix or combinations such as silk with rayon, silk with viscose, silk with wool and so forth.
Cotton Tallit
Usually hand woven, cotton is a popular material chosen for a tallit as it is flexible, but not fragile, durable but not heavy, and is able to support many designs and colors easily. It is also easier to clean.
Wool Tallit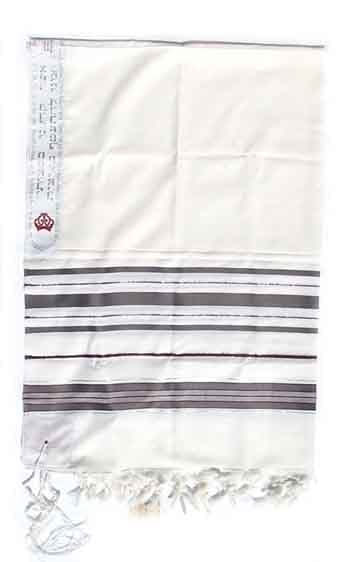 The ideal tallit is made from either sheep's wool or lamb's wool, which was the material from which the traditional tallit was made. It is very warm as was needed in ancient times. Depending on the weave, such a tallit can be quite itchy or very soft. It is important to note that goat's or camel's wool does not qualify as a suitable material from which to make a tallit.
Viscose Tallit
Tallitot made from viscose is a much newer trend, though the material, which is extremely light and soft, and completely natural (originating from wood pulp), has been embraced with designs for both men and women. Designs that appeal to men tend to be in more darker, somber colors, such as navy, black, grey, or brown – all colors that match suits easily. Designs for women, on the other hand, are vibrant and colorful, using pinks, yellows, oranges, vivid blues, and greens to depict beautiful scenes or religious images.
Organza Tallit

Usually reserved for womens' tallitot, organza is a very delicate material made from nylon, polyester, and silk filaments, but which feels very much like silk. It supports an expansive range of colors and appears very luxurious, graceful, and sophisticated, so is a popular choice for many women.
The Environmentally Friendly Tallit
For those concerned about the environment, there exists a very small niche market of weavers who use only environmentally friendly textiles, such as organic cotton. Though more expensive, to some, the contribution to the environment does justify the increased cost incurred when purchasing an eco-friendly tallit.